LVP Leading Ladies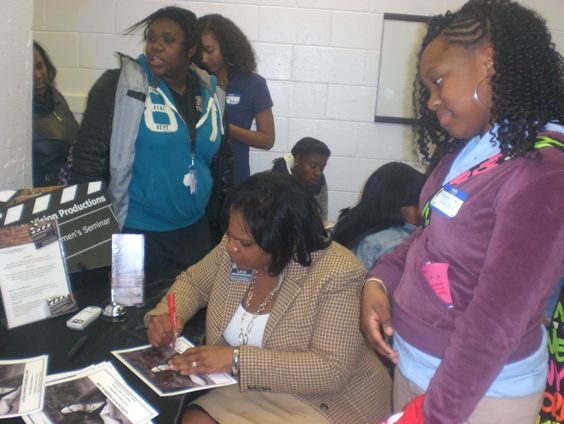 Where Caring Started

Lions Vision Productions, LVP Leading Ladies mentoring program, was created to provide a supportive Sisterhood of Mentors for teen girls. LaTia McNeely-Sandiford, MSW, Founder & Executive Producer of Lions Vision Productions, was born and raised in urban Jersey City. LaTia experienced tremendous adversity as a young person. LaTia's parents were addicted to heroin, her mother died when she was 9, LaTia had a baby at 13 and she had been in abusive relationships. Additionally, LaTia's home life was unstable as much of her immediate family became drug addicted. As an only child, at times she still felt alone, many times praying that she had older Sisters. Although LaTia had a hard time, she still never stopped working hard to achieve her goals and chase her dreams. However, it was hard.

LaTia knows how difficult the journey of adolescence is because she's experienced it. During her adolescent years, LaTia was going through much of what today's youth endure. For this reason, she wanted to create a supportive network for girls . She wants girls to have access to positive women who could make the difference in their lives like some made in hers. LaTia was always supported by her grandmothers Berdie & Catherine, teachers like Ms. Cullen (P.S. 14 1985-87) Mr. Johnson, Mr. Hunter and Ms. Carrington (Lincoln High School 1989), helped her to realize that she was Worthy. These people helped to build LaTia's confidence and aided in her defeating the odds. LaTia has become a Master's level Social Worker, entrepreneur, Author, Motivational Speaker and Seminar Leader because caring people took the time to make sure she knew that She Was Worthy.

In the spirit of giving back, Lions Vision Productions has partnered with the Boys and Girls Club of Union New Jersey to bring LVP Leading Ladies mentoring group to the youth of Union. The LVP Leading Ladies teen mentoring group supports teen girls (ages 13-18) in six main areas of personal development; Self Confidence, Education, Career Path, Building Healthy Relationships, Volunteerism and Spirituality. The LVP Leading Ladies program assigns mentors to young ladies identified as need extra support, guidance, mentorship and Love.

This program will launch in September 2017. All referrals will be made through Boys and Girls Club of Union exclusively for youth who attend and / or are affiliated with Boys and Girls Club.. Our liason is Ron Brangman, Associate Director.

We are currently recruiting volunteers. If you are interested in being a mentor please complete the form below.

We thank you for your service. We'll be in touch shortly.

Qualities of a good mentor:
-A sincere desire to be involved with a young person
-Respect for young people
-Active listening skills
-Empathy
-Ability to see solutions and opportunities
-Flexibility

Requirements:
- Women's Ages 30 older
- Employed or Entrepreneur
- No criminal record
- No Active Alcohol/Drug Addiction (At least 10 years sober)
- No Sexual Offences of any kind
- Transportation
- Able to provide at least 5 monthly hours of service (include at least 1 face to face hours)
- Willing to be participate for no reimbursement
- Residing in New Jersey

If you'd like to donate to LVP Leading Ladies pleas do so below. We thank you for your generosity.
---