2016 Worthy Women's Re-Invention Convention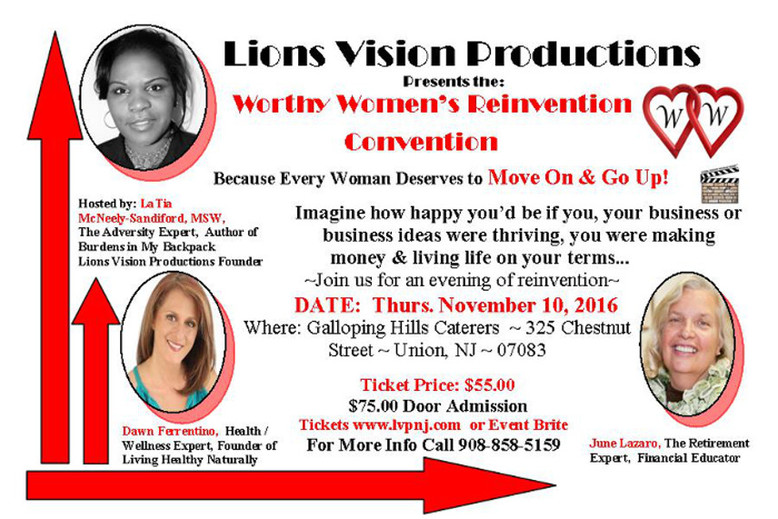 ​The
2016
Worthy Women's Re-Invention Convention is a event designed to be a woman's guide to hitting the next level. This event is all about women elevating their game in every aspect of their lives from finances to entrepreneurship. This event will prepare women to take back their power, update their personal brands, find their stride and move forward with full confidence that they are the best at what they do. The Re-Invention Convention will provide the tools for women to make themselves over from the inside out. This event will prepare women to move forward in their industries while remaining relevant in these changing times.
This event is for the woman who has achieved, but want more, the woman who hasn't quite hit her stride, the woman who sees the world changing and wants to stay with the times and the woman who simply want to make a successful transition to her next chapter.
The event is keynoted by LaTia McNeely-Sandiford, The Adversity Expert, Founder & Executive Producer of Lions Vision Productions. LaTia will the voice of inspiration. She'll have the crowd laughing, thinking, crying and feeling good about where their lives are going. LaTia will be joined by
Worthy Women's Members, Dawn Ferrentino and June Lazaro.
The tickets for this event is only
$55.00
, but you are Worth so much more...
When: Thursday, Nov. 10th, 2016
Where: Galloping Hill Caterers
3254 Chestnut Street
Union, NJ 07083
Time: 6:30 - 10:30pm
Attire: Business Comfortable
Dinner: Served
Ticket Price Includes: Empowerment seminars, Dinner / Dessert, Seminar, Raffles, Networking, Music and Fun!
We will be featuring
'select' vendors with unique products
for this event.
The special event vendor rate is $175.00 which includes vendor table, dinner and festivities.
To submit a vendor request,
click here
.
---
Get Your Tickets Now ~ Complete Registration includes:
(1) submitting the registration form and (2) paying for your tickets below.